Life Coaching with Lindsay
Thank you for visiting our website and for considering a Life Coach! It takes an astute, proactive person to realize the value of outside help when faced with a challenge.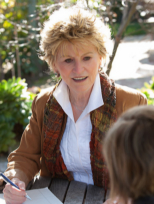 Whether you want to...
- Improve your relationships
- Deal with stress and anxiety
- Increase your personal effectiveness
- Improve your health, lose weight or have more energy
- Have support through challenging times
- Deal with grief, frustration or anger
- Improve your sports performance or professional skills
- Create a phenomenal life
... We have the product or service for you!

To really get a sense of who Lindsay is and how she works:

"At the deepest of emotional valleys, I was so fortunate to have a skilled EFT practitioner, Lindsay Kenny, by my side who was able to guide me to safer ground where I could start logically sorting through my collision of emotions. I am a huge fan of EFT!"



_________________________________________________

Why Coaching?
No matter where we are in your life we are always looking at reality through our own perspective ...based on life experiences. You have your own evidence as to why something is too hard, too complicated, or just won't work.That means that even if you're bright and savvy, there are still many things that you can't see from where you stand.

This is where the power of a coach can be life-changing. A coach will have different experiences that allows him or her to see your issues from a healing perspective. A skilled coach can show you many resources, where you may see none. Trying to fix complex problems alone is a little like a surgeon trying to remove his or her own spleen. It's virtually impossible to do, for many reasons - pain being just one of them.

Unlike traditional therapy, which can continue for many years, Pro EFT allows us to cut to the heart of the problem and solution. You don't have to re-live a trauma to neutralize it. Together we can deal with your issues quickly, painlessly and affordably.

Note: (Traditional therapy is just a different way of support, and is often very beneficial. What we offer is an alternative that we feel works efficiently, and for most people, more effectively. We also work hand in hand with many licensed therapists that deal with pathologies that are beyond the scope of coaching.)

Click here for fees about our services
A good coach can literally give you a new lease on life.
So get out of your own way and allow us to help you. You deserve it.
Lindsay Kenny is a Founding EFT Master, a Certified Trainer for the AAMET (Association for Advancement of Meridian Energy Techniques) and a Trainer of Trainers. She is also an author, speaker and the Founder of the EFT Institute (formerly known as the National Alliance for Emotional Health.)
Typically, coaches deal with people who might have some challenges, but whose lives are otherwise functioning. Psychologists, or psychiatrists, often work with people whose lives are dysfunctional. I prefer working with people who have some challenges in their lives but need help, as opposed to people who have dysfunctional lives (such as drug addictions, psychotic disorders, or deviant sexual behaviors.) If you are not sure which category you fall into,drop me an e-mail, so we can to determine the best modality for your needs.

To learn more about our techniques and how we work, start by reading our EFT Simplified page and our Fees page. To learn more about Lindsay, check out the About Us page and the Media pages (for radio interview, articles and more.)

_______________________________________________
EFT and Pro EFT Tapping Events
Here's an easy 'map' to find an event that suits your needs
________________________________________________________
Important note: While tapping of all kinds has produced remarkable clinical results, it has only been used in its current form since the mid-80s, and thus is still considered by some to be in the experimental stage. Therefore, users of tapping techniques must take complete responsibility for their use of it. Although tapping has no negative side-effects, it has been known to bring peace of mind, relaxation, a brighter outlook, better health, more energy and focus, added self-esteem. It also helps to relieve stress, anxiety, chronic pain, and a multitude of other ailments and issues. So use with care. :-)

Lindsay Kenny is not a licensed health care professional and offers Pro EFT™ as an EFT Master and Life Coach. If you would like to find another Pro EFT™ practitioner check out our Preferred Practitioner page.