Welcome to our Online
Pro EFT Webinars
Our online courses, whether live or recorded, are a great way to get a solid foundation in tapping. In fact, they take you beyond basic EFT and into Progressive EFT, even during the Level 1. Our Web-Classes are Internet-based, interactive, video courses that our students love. And, just like our live events, we have fun while learning. Stay at home and increase your skills!

Lindsay Kenny, EFT Master and Certified AAMET Trainer
For more information about the Level 1 "Basic and Beyond"
webclass and our "Innovative Intermediate Level 2"click here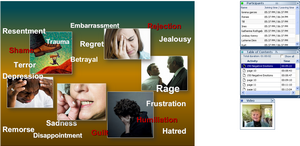 ______________________________________
Read about our , "Tap Away Weight" Webclass / Teleclass recordings. The best of both learning experiences.

Click here to learn about the below webinars we've recorded for you :

Getting Unstuck
Level 1 and 2 Webinars
Tap Away Weight
Tapping intoDecisiveness
Tap Away Pain and Illness
Post-Level 3 Mentoring

Our web-based courses allow you to learn and tap in the conveniece of your own home or office with an EFT Master and Master MTT Trainer, Lindsay Kenny. You can visually see what's going on and watch the PowerPoint presentation as it's given.

NOTE: Participating in a Webinar does not qualify you or certify you, in of itself as an EFT practitioner. However, completion of the Level 1 and 2 webinar course, along with passing the final exam and other requirements, may qualify you to take a live Level 3 workshop. Successful completion of the Level 3 Course, does count toward your potential Pro EFT certification.