EFT Tapping Intensives:
Personal or Practitioner

with EFT Master, Lindsay Kenny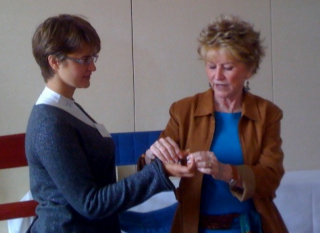 Our 5-day Practitioners Intensive is for those who want to integrate EFT or Pro EFT into their business or want to become a practitioner. This unique course helps to fast-track tapping experience, knowlege and expertise. It even provides an option to take Levels 1 and 2 online. Read more about it our Practitioners Intensive to see if it's right for you.


Our Personal Intensive has morphed into our Ultimate Personal Transformation Program With this unique Program you can work on your issues at a high pace from home or fice, by phone or Skype. It's so much effective and efficient to committ to a block of time and rources to handle your

We also offer one-on-one sessions, by phone or in person, with many payment options and packages. Please visit our Coaching page or our Fees page to see what would best suit your needs. Or contact us if you need some guideance deciding.
Here is what others have said about our Intensives:
You were great Lindsay!!!!!! Thank you for having me and allowing me to be with such a great group.Your warmth, humor and professionalism has been so powerful to facilitate my changes so that I can create the kind of family, relationships and profession that I have dreamed of all my life. I will continue my creation of this dream as well. Val E
****************
I must say you are a gifted talented coach. Without your special blend of talents the 4 days would not have been the same. I feel truly lucky to have participated in the Intensive. Cynthia C
****************
Thank you thank you thank you Lindsay. I can't tell you how much I enjoyed and appreciated this workshop with you! I learned something every day and I'm so grateful I for this opportunity. Elizabeth D.
****************
First of all, thank you for the excellent tapping Intensive - your abilities in this area are awesome. I came away with a deeper understanding and respect for EFT, and a determination to use it every day. Jackie D
****************
Hi Lindsay, I just wanted to thank you for an awesome experience. The Intensive far exceeded my expectations, and they were high. I wasn't't the only one that put to rest most of their issues, but I'm the most grateful. I would have never dreamed that was possible. An added bonus was how you taught us so much more about tapping as we progressed. Ellie J.
****************
You have a wonderful gift of explaining creative and efficient ways to use tapping. I had no idea of its breadth and scope. And I love your irreverent sense of humor too. Thanks again. David B
****************
Read about our Ultimate Personal Transformation Program
(which has replaced the Personal Intensive)
Read about our 5-day Practitioners Intensive
Please contact us if you have any questions